Saint Petersburg Administration supports the Dostoevsky's Petersburg Fund initiative to create new museum space
12.04.2018
In the beginning of April, the initiative of the Dostoevsky's Petersburg non-profit fund to create a new space for the Dostoevsky's Museum was supported by the city administration. The construction is to begin in the first quarter of 2019. The project costs were preliminary estimated to be 650-700 million rubles. A more specific cost estimation shall be provided only when the rest of title and permission documentation is complete.
The cofounders of the Fund include Evgeny Gerasimov, the head of the Evgeny Gerasimov and Partners Architectural Workshop; Nataliya Ashimbaeva, the director of the Dostoevsky's Museum; and Andrey Yakunin, a patron responsible for fund raising for the project. Vladislav Smirnov is appointed to be the Executive Director of the Fund.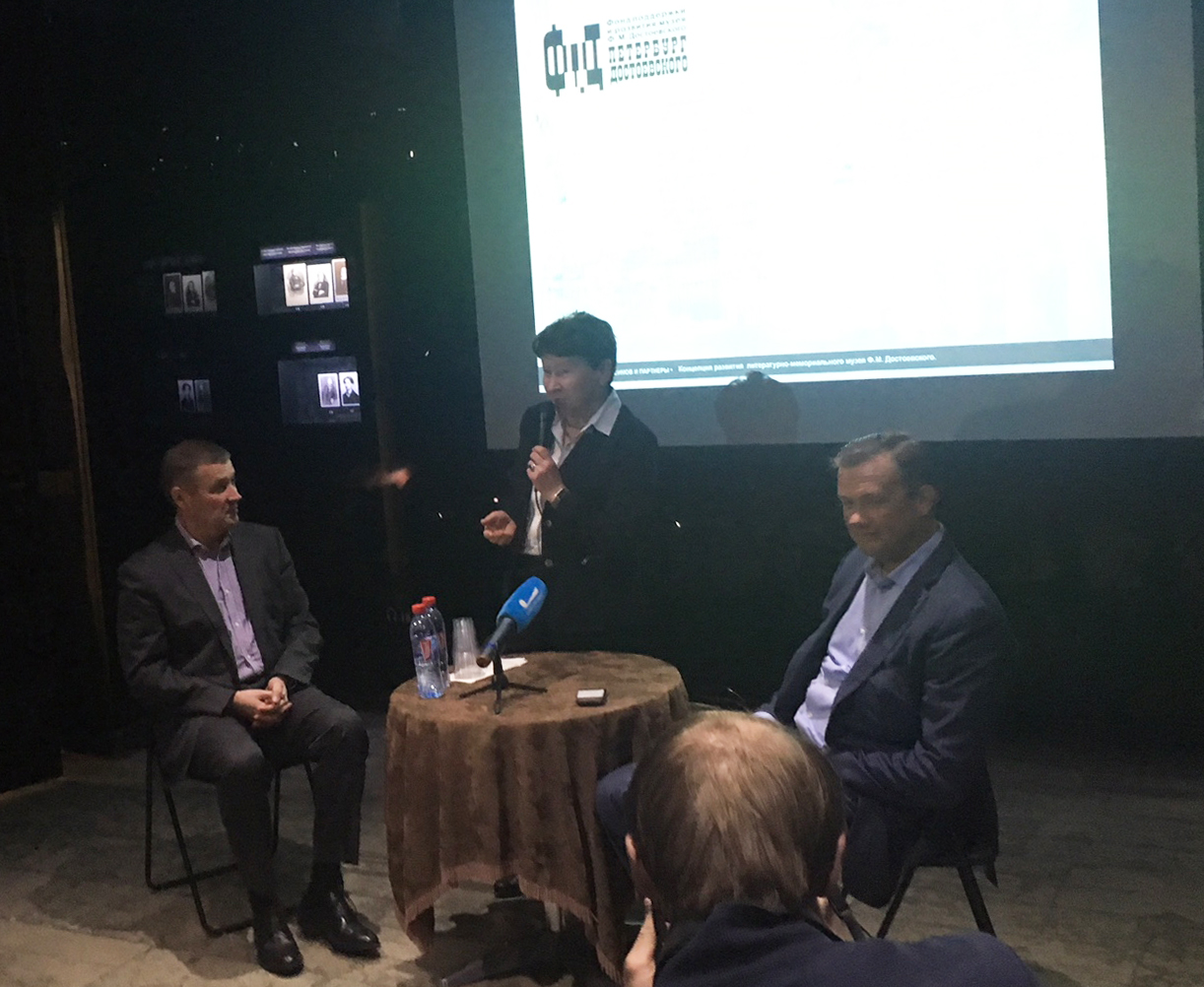 The architectural solutions proposed by Evgeny Gerasimov's Workshop will allow to enhance the museum area and create a next-generation museum while carefully preserving the existing space. The new Literary-Memorial Museum of F.M. Dostoevsky will really be convenient for any visitor, no exclusions, including people with disabilities. The museum will comprise multifunctional auditoriums for lectures and performances, an exhibition space, a café, a museum giftshop, and some space for research work.
Nataliya Ashimbaeva, the director of the museum, says about the new building construction: "The museum has outgrown the bounds wherein it has existed for 47 years. Our activities are abundant, including exhibitions, publications, theater work. And all this in a single room, where the projects are so crowded. We want to eliminate this crowdedness, this is why I welcome the Fund's initiative gladly and look forward to the day when we move into the new Dostoevsky house in Saint Petersburg."
"We consider this endeavor to be very important. The museum opened in 1971, the year of the 150th anniversary of the writer. I have been watching its activities for a while and understand how it is dramatically short of space. We started talking about the museum enhancement as early as 2016 and prepared a presentation of the concept. Today I am very glad that we are finally moving into the right direction, because to arrange a decent Dostoevsky's 200th anniversary in 2021 is an affair of honour for Saint Petersburg," – says Evgeny Gerasimov.
Andrey Yakunin is involved into the project personally. "The museum development is a non-profit project, so the investment terminology is not really applicable here. All the funds raised will be used for the museum development, all the facilities built will be employed by it. Such projects always depend on the support of the society in their implementation. I am sure that there are enough Dostoevsky fans in Saint Petersburg who understand and value the city's cultural and literary legacy and will be glad to support our initiative."
The construction of the new building is to be completed by the 200th anniversary of Fedor Dostoevsky, which shall take place in 2021. This is also when the new museum space is to be opened.